RPS Chatter September 2022
Edition 10
Quick Jump

Upcoming events

16.09.22/9:00am-2:30pm

Last Day of Term 3

1.11.22/9:00am-3:30pm

Melbourne Cup Day – Public Holiday

1.12.22/3:30pm-5:30pm

RPS Whole School Production

30.11.22/3:30pm-5:30pm

RPS Whole School Production

1.12.22/9:00am-3:00pm

State Wide Year 7 Orientation Day

24.10.22 - 4.11.22/
12:30pm-3:30pm

Swimming Program – Years 3, 4 & 5

7.11.22 - 18.11.22/
12:30pm-3:30pm

Swimming Program – Prep & Year 2

Student-free days

31.10.22 - 9:00am

Curriculum Day

Term dates

Term 1

28.01.22 - 8.04.22

Term 2

26.04.22 - 24.06.22

Term 3

11.07.22 - 16.09.22

Term 4

3.10.22 - 20.12.22
Message from the Assistant Principal
Curriculum
At Richmond Primary we have a strong emphasis on continuous improvement in all aspects of our teaching and learning. This term's professional practice day provided the opportunity for  each team to visit another school to view best practice in an area that aligned with their team goal. The prep team visited Yarra Primary and came away with new knowledge to up level their teaching of reading. The 1/2 team spent the morning at Middle Park Primary. They viewed maths being taught and have new strategies already in place to make their teaching more effective and targeted. Lloyd Street Primary hosted the 3/4 team who saw a dynamic inquiry program in action. The 5/6 team visited Spensley Street Primary. Their purpose was to learn how they can utilise their open space and uplevel their team teaching in a multi age setting. They day proved a very rewarding one and allowed each team to engage a valuable day of professional development.
e Smart
RPS is on the journey to becoming an accredited e Smart school. The e Smart committee is made up of myself and other staff members who have been auditing the school's systems and policies and processes in regard to cyber safety and education. This includes examining, effective school organisation, school plans, policies and procedures, a respectful and caring school community, effective teacher practices, an eSmart curriculum and partnerships with parents and the local community. In todays newsletter I have included a news piece from e Smart on 'Top 10 Cyber Safety Tips.'
Lost property
The school is trying to encourage children to be responsible for their own belongings. All items of clothing, drink bottles, toys, balls etc. found on school grounds will be placed in lost property and not handed to classroom teachers. At the moment the lost property baskets and hooks are overflowing with uniform, clothing and lunch/drink containers found in the school grounds. Parents and carers are welcome to sift through and try to find their missing items.
Arts Gala
Thank you to Lucie, Karen, Gary and all the RPS staff for the excellent 2022 Arts Gala. It was a wonderful evening showcasing the visual and performing arts as well as our Mandarin program. Also, a big thank you to Kristy and her fundraising team for providing the refreshments. Together it made for an outstanding community event.
Enjoy your week and hopefully your team wins,
Nerida
In Term 4, all students have the opportunity to take part in the Young Authors Award Writing Competition. The school has organised a special guest judge and there are prizes for the best narrative from each year level, as well as an overall winner!
Students are encouraged to begin the writing process now and work on their stories over the holidays to give them time to revise, edit and publish a good copy. The text they write must be a narrative. Submissions will be due in the second week Term 4 and the winners will be announced at the whole school assembly in Week 4.
Should I stay or should I go?
I know it's hard to believe but, planning for the 2023 school year is in full swing! To assist us in making sure we are ready for next year, if you or anyone you know would like to be part of our amazing school community in 2023 and they are not yet enrolled, please make sure enrolment forms are completed and returned to Jake in the office as soon as possible.
Also, we need to know if you're in grades 1-5 and planning on leaving at the end of the year.

Russell's Joke of the week:
I invented silent tennis…
It's like regular tennis, but without the racket.
School Hats
It's spring and our students are required to be wearing their school hat.
We thank you for ensuring your child has a named hat at school everyday.
2023 Prep Enrolment/Transition
Please note: 2023 Prep enrolments are due now.
RPS events are posted on our website and the Compass Calendar.
Please ensure you check both platforms regularly to ensure you are kept up to date for all RPS events.
The RPS 2022 Whole School Production
Date:

30 November 2022

Time:

3:30pm-5:30pm

Location:

Lynall Hall Community School Richmond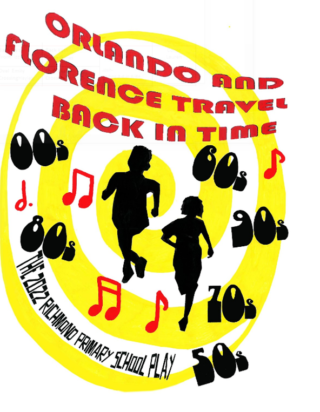 The 2022 whole school production has launched. Roles have been chosen and rehearsals have started.
Please note: This performance will be on both the 30th of November and the 1st of December.
Ticket Sales will be advised.
RPS Swimming Program
Prep, Year 1 & Year 2 Schedule
Dates: 7th of November – 18th of November
Students will have a 10 day swimming program.
Year 3, Year 4 & Year 5 Schedule
Dates:  24th of October – 4th of November
Students will have an 8 day swimming program, due to the Curriculum day and Cup Day.
Please note: Year 6's will experience an open water swimming program, details will be provided shortly.
Prep
Sophia H – For being a kind and caring class member who always includes others. Well done Sophia!
Ruby Y – For being a brave and resilient member of our class, you are using a growth mindset to try new things and you have shown wonderful growth in writing.
Annabel F – Showing responsibility by making good choices and by caring for others in Prep C. Well done Annabel!
Year 1/2
Ella P – For per positive attitude towards learning and always trying her best.
Thomas E – For your excellent contribution to our arts gala artwork. You took a lot of time and care and it looks fabulous. Well done, Thomas!
Oscar H – For your outstanding improvement in his writing. Your determination is a great example for others.
Hirono S – Congratulations Hirono for showing Respect, Responsibility and Resilience – you are a kind and helpful member of the class!
Florence F – For your positive mindset, continuous efforts and kind and caring manner. Well done Florence!
Year 3/4
Grace I – For her efforts working on her timetable knowledge
Yuvaan M – For your fantastic efforts at camp, in particular radio rogain activity. Yuvaan-ted to find all clues and worked well with your team. Nice job!
Nate C – For the leadership and responsibility he showed at the Year 3/4 Camp! Great work Nate!
Cam B – For his fantastic enthusiasm during 3/4 camp. Your ability to jump into any activity with an open and positive mind was spectacular. Congratulations Cam!
Leo H-For your amazing focus and hard work during maths lessons this week. Keep up the great work!
Year 5/6
Hayden A -For having such a terrific attitude around the classroom and regularly contributing his ideas. Great stuff Hayden!
Quinn C – For his contribution to class discussions in reading.
Emma D – Emma has been working extremely hard on improving her descriptive language in her writing. Well done Emma!
Lily M – For always demonstrating our class goal of respect
Mila D – For doing a wonderful job at her personal inquiry project.
Spring into the Finals
Our classes and playground were a sea of colour with our students dressing for their sports teams, and all things fabulous and "springy"!
Today we  raised money $325 or Kids Undercover and FareShare . Thank you to everyone who donated a gold coin.
The Mayor visits 1/2
As part of the current unit of inquiry, 'Community, Place and Change', the mayor of Yarra council visited the 1/2 students this morning. She came to help our students understand what cultures and important places are in Richmond.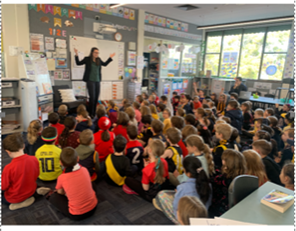 Arts Gala Day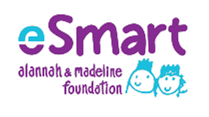 1.  Use tech to make life better
We can use technology to learn things, create things, connect with friends and family, reach out to people who are having a hard time, enjoy great entertainment, and even boost our fitness and mental health. Or we can use tech to make ourselves and other people feel lousy. Which would you rather do?
2. Keep your balance
Technology is incredible. Gaming, networking, apps … online shopping! But relying too much on tech can mess with your sleep and make you feel exhausted, stressed or lonely. Make time for the other things that matter to you: family meals, playing with pets, kicking a ball around, reading, cooking, art or just sitting out in the sunshine.
3. Boundaries, people
Sure, you're fascinating, but you don't need the world watching your every move. Regularly check your privacy settings on apps and social media, and make sure people can't track your location. Don't share passwords (no, not even with your best friend), and always think before you post. Photos that show your school uniform or the outside of your house might make you a little too easy to find.
4. Respect others
Before taking and sharing photos or videos of other people, always ask first if it's OK with them. And before you talk about someone online, stop to think: how might this make them feel? It's not all about you, amiright?
5. Keep everything updated
Any idea what causes the most security breaches on the internet? Software that isn't up-to-date. Seems crazy simple, but it's true! Be vigilant about updating software, including apps, anti-virus and even the humble browser.
6. Spam, Spam, Spam, Spammidy-spam
Even with the best anti-spam and malware software – that's up-to-date – spam is the modern version of junk mail. It's everywhere! Beware of emails and messages from people you don't know, especially if they are misspelled, say weird things, or urge you to click on hyperlinks or open files.
7. Keep your cool
When someone's behaving badly online, the temptation is to shoot back something equally harsh – but is that really how you want to spend your time? If it's an annoying one-off, you might decide to let it go and do something fun instead. But if someone's behaviour online is making you scared, anxious or miserable, it's time to talk to someone you trust and block or report whoever is bothering you.
8. Keep your friends close and strangers at arm's length
Do you know how many true friends most people have? Three. Yup, those four thousand and fifty-two social media 'friends' are a combination of acquaintances, people-you-met-once, people-you-can't-remember-meeting-once and, probably, some 'randoms'. How much do you want them to know about you? And if someone you don't know contacts you asking for photos, videos or personal info, or if they ask you to meet them in private or keep your conversations a secret – red flag! Tell a trusted adult straight away.
9. Be the hero
Have you seen someone being bullied or treated badly online? You have a chance to change the story. Think about reaching out to them and saying something kind and supportive, reminding them that they deserve to be treated with respect, and encouraging them to report abusive behaviour to the website, the eSafety Commissioner, or a caring adult.
10. Ask for help if you need it
Online dramas getting you down? Talk to someone you trust, like a friend, family member, teacher or mentor. Abusive behaviour online can also be reported to the eSafety Commissioner. And remember: you can chat for free to counsellors at Kids Helpline, eheadspace, Beyond Blue or Lifeline. They are open 24/7 and offer web and text counselling, as well as over the phone.