Quick Jump

Upcoming events

11.05.23/9:00am-3:00pm

Mother's Day Stall

12.05.23/9:00am-3:00pm

School Cross Country

19.05.23/9:00am-3:00pm

District Cross Country

22.05.23 - 26.05.23/
8:00am-3:00pm

Year 5/6 Camp

26.05.23/12:00pm-1:00pm

Mothers Day Lunch

7.06.23/9:00am-3:00pm

Whole School Performance: Performance 1

8.06.23/6:00pm-7:00pm

Whole School Performance: Performance 2

16.06.23/9:00am-3:00pm

Winter Gala Day

Student-free days

24.04.23 - 12:00am

Student Free Day

9.06.23 - 12:00am

Student Free Day

9.08.23 - 12:00am

Student Free Day

1.09.23 - 12:00am

Student Free Day

6.11.23 - 12:00am

Student Free Day

Term dates

Term 1

27.01.23 - 6.04.23

Term 2

24.04.23 - 23.06.23

Term 3

10.07.23 - 15.09.23

Term 4

2.10.23 - 20.12.23
Message From The Assistant Principal
Welcome back to Term 2. I trust that you were all able to enjoy a relaxing time over the Easter break with family and friends. This term is 9 weeks in length with many activities and events scheduled during this time. After taking personal leave last term I am back ready for lots of learning and the big events that are planned for the term. These include; the school production, grade 5/6 camp, winter gala day, whole school cross country, excursions and incursions.
Professional Learning

Last Monday our staff spent a really informative day working with Mardi Gorman. She is an educational consultant with expertise in the teaching of literacy. Hayley, Liv and I had the opportunity of engaging with her in the Leading Literacy course through the departments Academy of Leadership in 2022. Our staff learnt about current research and best practice around the teaching of reading and are now working towards implementing a more robust and focused reading instruction. Mardi will also be returning during the term to work with specific teachers and teams.
Extra-curricular activities
During Term 2 we have a number of extra-curricular activities including lunch time clubs run teachers and activities run at a cost by external companies. These are all voluntary. Here is a summary of the extra-curricular activities being offered.
Monday
No extra-curricular activities booked
---
Tuesday
Library with Lucie @ 11.35 in the library
---
Wednesday
Hot Shots Tennis @8.10-8.50 on the netball court
Kelly Sports Dance @11.00
Lego Club with Tammy @ 11.35 in the library
Ukulele Club with Jane @ 11.35 in the GP room
---
Thursday
Hot Shots Tennis @ 8.10-8.50 on the netball court
Drama Time @ 11.00
Watercolour Club with Rachel @ 11.35
---
Friday
Chess Club @8.00-8.50 in the library
Technology Club with Josh  @ 11.35 in 3/4A space
Community News
One of a talented parents, Gabbi Bassett is now an author and has published her first picture story book, "Jack's Best Day Ever." The official launch will be on May 21st. It is a story about Jack who likes anything that zooms, digs and races. But Jack doesn't like change and he only ever wants to eat peanut butter sandwiches! The story explores how it feels to be neurodivergent and introduces children to the idea that there is no-one-fits-all way to be human.  I know our community will support Gabbi in her venture.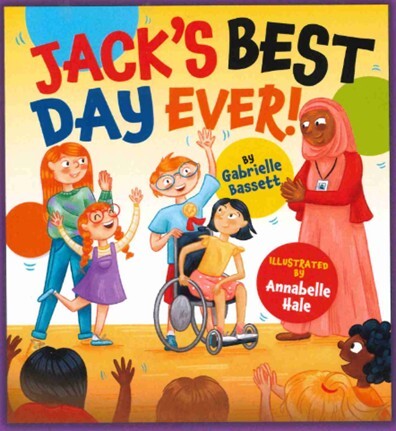 A Few Reminders
Being on time to start the school day is very important for your child's learning. We ask that you endeavour to have your child walk independently to class by the time the music is playing. This sets them up for a smooth and settled start to the day.
When you come to school during the day to collect your child or, drop off something they have forgotten, please do not go to their class space. To lessen the interruption to learning time our friendly office will go and collect your child and take them whatever they need.
Smart Watches and Mobile Phones
Our schools' Mobile Phones policy reflects the Ministerial mobile phone policy and requires that:
Students who choose to bring mobile phones (including Smartwatches) to school must have them switched off and securely stored during school hours. This means even if your smart watch is on school mode it needs to be handed it to the class teacher at the start of the day.
This and all our school policies can be accessed on the school website.
Thank you for your support.
Nerida
The Great Primary School Mystery!
It feels like only yesterday when we were doing the Time Warp….now it's time to solve a mysterious event that has taken place here at RPS.  Thankfully we have to right people on the case!
The 2023 production of The Great Primary School Mystery is well on its way!  The Year 6 students have their roles, the dance moves will begin next week, props are being designed, and rehearsals have begun.
This year we are taking a different approach, with half the school performing on one night, and the other half performing the following night.  With over 200 families, we have ensured a majority of you have children performing on the same night.  Where this wasn't possible, you get the pleasure of viewing the production twice!
Performance 1: Wednesday 7th June 
Foundation A
1/2C
1/2D
3/4A
3/4C
3/4D
5/6A
5/6B
Performance 2: Thursday 8th June
Foundation B
Foundation C
1/2A
1/2B
3/4B
3/4E
5/6C
5/6D
Once again the performances will take place at Lynall Hall Community School, and pre-show snacks/beverages can be purchased on the night.  Ticketing details and prices will be included in the next RPS Chatter.
RPS Mothers Day Stall
The RPS Mothers Day stall will be held on the morning of Thursday the 11th of May. All gifts will be $5.00 each. If you are able to assist on the day, please reach out to Dayna on 0407 682 385.
Russell's Joke of the week

What do you call a belt made of watches?
A waist of time.
Please see the below list of activities that you can enrol your child into for Term 2:
Drama lessons: Thursdays, Lunch Time
Music Lessons: Individual Bookings
Tennis Lessons:  Wednesdays & Thursdays, 8:10AM – 8:50AM
Dance Lessons: Wednesday's, Lunch Time
Chess Club: Fridays, 8:00AM – 8:50AM
If you are interested in any of the above activities for your child, please see the links below for further information.