RPS Chatter July (2) 2023
Quick Jump

Upcoming events

3.08.23/9:00am-2:00pm

Artist in Residence – 1/2

4.08.23/9:00am-2:00pm

Artist in Residence – 5/6

4.08.23/3:00pm-3:30pm

Whole School Assembly

7.08.23/3:45pm-6:00pm

Parent Teacher Interviews

7.08.23/10:00am-3:30pm

Artist in Residence – 3/4

8.08.23/1:30pm-1:30pm

Parent Teacher Interviews & Students Dismissed from School at 1:00pm

8.08.23/9:00am-1:00pm

Artist in Residence – Foundation

14.08.23/12:00am-2:00pm

Book Week Workshop: Years 3 – 6

16.08.23 - 18.08.23/
8:00am-3:00pm

Year 3/4 Camp

21.08.23/9:00am-1:00pm

Book Week Workshop: Foundation – Year 2

24.08.23/6:00pm-11:00pm

RPS Trivia Night

31.08.23/8:00am-9:30am

Father's & Friends Day Breakfast

9.09.23/7:00am-1:00pm

Gleadell Street Market Community Stall

27.10.23/9:00am-3:00pm

RPS Colour Run

Student-free days

24.04.23 - 12:00am

Student Free Day

9.06.23 - 12:00am

Student Free Day

9.08.23 - 12:00am

Student Free Day

1.09.23 - 12:00am

Student Free Day

6.11.23 - 12:00am

Student Free Day

Term dates

Term 1

27.01.23 - 6.04.23

Term 2

24.04.23 - 23.06.23

Term 3

10.07.23 - 15.09.23

Term 4

2.10.23 - 20.12.23
Message from the Principal
It's been said many times, but time certainly does fly when you are having fun! If anyone can tell me where the past three weeks have gone, I'd really appreciate it.
Earlier this week, individual students' NAPLAN results were distributed to parents in Years 3 and 5. NAPLAN is a national literacy and numeracy assessment undertaken by students in Years 3, 5, 7 and 9 across the country. These tests are only one aspect of each school's assessment and reporting process. As they are held once every 2 years for each student, they cannot replace the extensive, ongoing assessments made by the teachers about student performance. Your child's teacher will have the best insight into your child's educational progress.
NAPLAN is not a new thing for many of us however this year new standards were introduced to the reporting process. The new reports replace the previous numerical NAPLAN reporting bands and national minimum standards and now report on proficiency standards.
Proficiency standards provide clear information on student achievement. They are set at a challenging but reasonable level expected for the child at the time of NAPLAN testing, based mainly on what has been taught in the previous years of schooling.
There are 4 proficiency levels:
Exceeding: The student's result exceeds expectations at the time of testing.
Strong: student's result met challenging but reasonable expectations at the time of testing.
Developing: The student's result indicates that they are working towards expectations at the time of testing.
Needs additional support:  The student's result indicates that they are not achieving the learning outcomes expected at the time of testing. They are likely to need additional support to progress satisfactorily.
The new reporting system means that results from 2023 onwards cannot be directly compared with results from 2008 – 2022. This is because the new measure scale that is more suited to the online test has been introduced with the new standards. Also, in 2023, the tests moved to Term 1 from Term 2.
We know this is only one part of the unique individuals we teach every day, and our goal is always to educate the whole child. Each one of them comes to the classroom with their own distinct personality, strengths, weaknesses, interests and learning styles. Recognising and embracing the individuality of students is a fundamental aspect of what we strive to do every day and is crucial for their overall growth and development. Overall, we were very happy with the results our students achieved in NAPLAN this year.
That's all from me for now
I look forward to seeing you around the school grounds.
Until then….Stay safe. Stay healthy. Stay happy and remember to be kind to yourself and others
Megan 😊
Whole School Production USB
The GREAT Primary School Mystery!
Last term our whole school production was a HUGE success.  Now you can relive the experience of The GREAT Primary School Mystery?
USB's of the show can now be purchased via Compass. Please log into your Compass account and click on the Course Confirmation/Student Payment notification on your dashboard. From there, you can click on Whole School Production USB Sale and can place an order.
$25 per USB and both performances will be included.
Orders will close on Friday 25th August
ORDER YOURS TODAY TO AVOID DISAPPOINTMENT!
Please note: You do not have to purchase a USB for each child, one USB contains the whole production.
Tell us what you think!
Our school is conducting a survey to find out what parents / caregivers / guardians think of our school. The Parent / Caregiver / Guardian Opinion Survey is an annual survey offered by the Department of Education that is designed to assist schools in gaining an understanding of families' perceptions of school climate, student behaviour, and student engagement. The survey is optional, but we encourage all families to participate. Our school will use the survey results to help inform and direct future school planning and improvement strategies.
All families are invited to participate in the survey.
The Parent / Caregiver / Guardian Opinion Survey will be open from Monday 7 August to Friday 8 September 2023.
The survey will be conducted online, only takes 20 minutes to complete, and can be accessed at any convenient time within the survey period on desktop computers, laptops, tablets or smartphones. The online survey will be available in English and 10 other languages including Arabic, Greek, Hakha Chin, Hindi, Japanese, Punjabi, Simplified Chinese, Somali, Turkish, and Vietnamese.
We will be sending out the link at next week.
2024 Foundation Enrolments Due Today
Foundation Year enrolments are due today!
If you are planning to enrol your child into Foundation next year, please provide the relevant documents to the school office. Please see the below links for the list of forms that need to be read and completed in order for your child to be enrolled at our school. You are also more than welcome to attend a school tour in Term 3, we highly reccomend bringing your child with you so they can become familar with the enviornment.
Please note, that we are more than happy to accept Foundation enrolments after today if you need more time to organise your child's documents. We kindly request that you provide your documents as soon as possible so we can begin planning our 2024 Foundation classes. 
Upcoming Activities at RPS
Artist in Residence at RPS!
Ed Bechervaise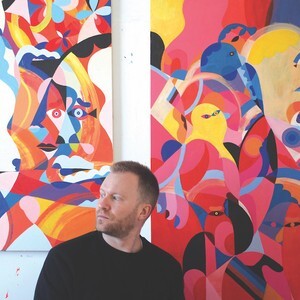 Over the next two weeks Ed will be coming to RPS to work with the students where they will learn about Ed's practice, where he finds inspiration and how to create bold, striking, figurative abstract imagery. Students will create their own A3 mixed media piece of art and the 5/6 students will be helping Ed to create a school mural!
A bit about Ed…
Ed Bechervaise, also known as Unwell Bunny, often begins his creative process with quick studies drawn from the vivid texture of lived experiences. These rough sketches are the guidelines for the natural shapes and loose forms that characterise his finished pieces. Inspired by the colourful world of possibilities that exist in both the real world and his subconscious, the Melbourne-based artist is eager to explore abstraction and imagination.
"I enjoy composition, the way colours fall into each other, and the way colour can create a feeling that isn't formal," he says. "Just by having certain colours sitting next to each other, it can create depth and understanding of greater spatial dynamics."
Foundation:
Milla K – For being brave in her learning by trying new things. You have been willing to take on challenges and have tried your best! Well done!
Hazel E – For being a kind and helpful member of the class! You can always be relied on to make good choices and help out!
Year 1/2:
Archer F – For your positive energy that you bring to the classroom. You have an infectious enthusiasm for learning. Well done, Archer!
Jemima B –Your passion for learning is infectious. I commend you on your growth mindset. The positive changes you made to your writing after our one-on-one conference was impressive. Congratulations Jemima!
Ruby A – For her continuous kindness in our class. You're always ensuring everyone feels included and belongs in our classroom community. You are a real asset to our class, keep smiling bright Ruby!
Year 3/4:
Kitty M – For her positive attitude towards fractions. You might be 1 out of 21 students in this class, but you're 100 out of 100 with your effort this term!
Lucy P – For your outstanding effort, all the time, in everything, especially recently in Writing. You are creating such a rich and detailed world of Paris in the 1960s, I can't wait to read the finished product!
Year 5/6:
Millie K – Queen Millie Kerr has shown professionalism, leadership and fairness in her new role as Croctopia's Queen. All hail Queen Kerr!
Tsubasa K – For settling into our class like you have been here all year. You have hit the ground running and have been a welcome addition to our class おめでとう
Russell's Joke of the week

I asked my dog what's two minus two.
He said nothing.
Activities at RPS (Term 3)
Please see the below list of activities that you can enrol your child into for Term 3:
Drama lessons: Thursdays, Lunch Time
Music Lessons: Individual Bookings
Tennis Lessons:  Wednesdays & Thursdays, 8:10AM – 8:50AM
Dance Lessons: Wednesday's, Lunch Time
Chess Club: Fridays, 8:00AM – 8:50AM
If you are interested in any of the above activities for your child, please see the links below for further information.