Quick Jump

Upcoming events

19.05.23/9:00am-3:00pm

District Cross Country

22.05.23 - 26.05.23/
8:00am-3:00pm

Year 5/6 Camp

26.05.23/12:00pm-1:00pm

Mothers Day Lunch

7.06.23/9:00am-3:00pm

Whole School Performance: Performance 1

8.06.23/6:00pm-7:00pm

Whole School Performance: Performance 2

16.06.23/9:00am-3:00pm

Winter Gala Day

Student-free days

24.04.23 - 12:00am

Student Free Day

9.06.23 - 12:00am

Student Free Day

9.08.23 - 12:00am

Student Free Day

1.09.23 - 12:00am

Student Free Day

6.11.23 - 12:00am

Student Free Day

Term dates

Term 1

27.01.23 - 6.04.23

Term 2

24.04.23 - 23.06.23

Term 3

10.07.23 - 15.09.23

Term 4

2.10.23 - 20.12.23
Message from the Principal
3 weeks down and only 6 weeks to go!  We have definitely hit the ground running this term and we are only going to get faster.  As I sit here and think about what we have happening for the remainder of term, I have a mixture of feelings ranging form excitement to exhaustion and everything in-between.  If you are feeling the same things as me, know you are not the only one.
With so many things happening in the shortest Term of the year including Mother's day, school cross country, district cross country, excursions, incursions, public holidays, curriculum days, whole school production, 5/6 Camp, student reports, sporting events, pizza day….the list goes on…. it's not surprising sometimes things slip through to the keeper.  This is not intentional, it's because we are human….and thankfully it doesn't happen very often.  Our priority always has and always will be our students.  We plan events for them to broaden their minds and experiences.
As a result, we completely overlooked Education week and were tardy in organising our open morning.  Unfortunately, some of our community members are unable to attend our open morning on Monday May 15 at 9.00am.  In saying that, our learning spaces are always open to families to come and see what happens on a daily basis.  Check with your child's classroom teacher as to when would be a good time to visit.
This year's theme for Education Weeks is Active Learners:  move, make, and motivate.  It puts the focus on the many different ways students learn, through physical activity, hands on learning and student voice.  Our students are exposed to these different learning styles every day.
Speaking of next week, I think raising awareness of Neurofibromatosis on our NF day is going to be a highlight!  The old adage is that "Blue and Green must never be seen unless there is something in-between" …but they obviously didn't know about our plans for NF day.  Our school will be a sea of blue and green as we raise awareness and funds for research into NF.  Students and staff are encouraged to wear blue and green, make a gold coin donation, learn about NF…and have a great day!
Finally, with Mother's Day just around the corner, I'd like to take a moment to recognise the important role that mothers, and mother figures play in our lives.  These significant people are often our first teachers, caregivers and role models.  They have a profound impact on our development and growth. So, to all the mothers and mother figures in our school community, I want to wish you a happy Mother's Day.
That's all from me this week.
Stay safe.  Stay healthy.  Stay happy and remember to be kind to yourself and others.
Megan
The Great Primary School Mystery
Participating in the school production is a fun and exciting way for students to express themselves and learn new skills.  For some, it's definitely out of their comfort zone, for others they thrive in the spotlight.  Rehearsals are well on their way for our 2023 School Production and buzz of excitement is growing after every dance practice.  The show is only 4 weeks away so make sure you have it in your diary.
Performance nights:
Performance 1: Wednesday 7th June
Foundation A
1/2C
1/2D
3/4A
3/4C
3/4D
5/6A
5/6B
Performance 2: Thursday 8th June
Foundation B
Foundation C
1/2A
1/2B
3/4B
3/4E
5/6C
5/6D
All going to plan, tickets will go on sale next week.  If you are one of the "lucky" families that has to attend on both nights, and you purchase your tickets in the one transaction, the second night will be half price!
Ticket prices (per seat)
1 seat                                                    $30
2 seats                                                  $40
3 seats                                                  $50
4 seats                                                  $60
Children under the age of 5 can sit on their parents' lap.
Respectful Relationships in Grade 1/2
In 1/2 we are learning about how to solve problems by recognising there are many ways to resolve conflict. Here is our problem solving choice wheel with strategies we have come up with to help us when we need to solve a problem no matter if it's big, middle or small.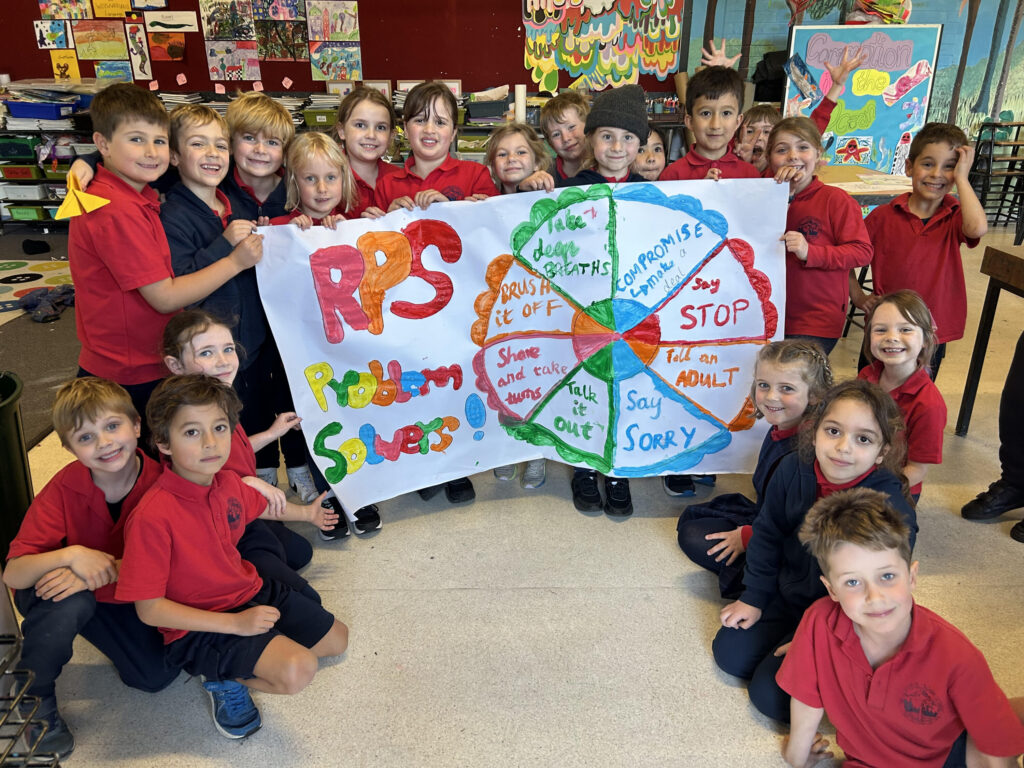 Whole School Cross Country
Every year level at RPS participated in the Whole School Cross Country today, it was a fantastic day with heaps of families coming along to cheer on students! We asked students what they thought about the Whole School Cross Country, here are a few of the responses:
Charlie (1/2) – "I felt really fit and really loved it".
Jemima (1/2) – "I felt really proud of myself and felt a weird feeling I have never felt before".
Annalie (Foundation) – "I really liked it and I am excited for next year".
Albee (Foundation) – "I really loved it and I'm happy that I came second".
Lenny (3/4) – "I really liked it and I was puffed at the end".
Heidi (3/4) – "It was really good and I'm excited for next year".
Gracie (5/6) – "I liked it because I came first".
Will (5/6) – "I really love running randomly, loved beating josh and also coming first. I am excited for next week".
Foundation:
Jack S – Being a positive and kind member of Foundation. He gives everything a go and can always be relied on to look after others. Well done Jack!
Max F – For his great effort in his Yarra River writing piece this week.
Gracie C – Congratulations Gracie for your no fuss approach to school – you always get straight down to business and try your hardest.
Year 1/2:
Luca S – For his incredible enthusiasm towards reading and discovering new authors. The way you explore the library and your passion for learning for books is inspiring! Well done Luca.
Samuel B – For your positive attitude towards your reading. You showed great interest in learning about nonfiction text features. Keep up the good work Sammy!
Elliot A – For your persistence and questioning when faced with challenging maths problems. I have admired your resilience and the way you are more comfortable with being in the learning pit. Keep up the great work, Elliot!
George M – For demonstrating empathy towards his classmates and showing initiative and pride in our learning space
Year 3/4:
Senolee K – For being such an enthusiastic and resilient learner who is always ready to give things a go! Love your work Senolee!
Zachy S – For working so recently in Writing, stepping outside your comfort zone and giving new learning 110% effort. You're not afraid to make mistakes and take risks. Well done!
Freddie G – For showing wonderful enthusiasm during our reading lessons, Freddie it is wonderful to see how much joy reading brings you. Keep loving it!
Camille R – For continuing to develop your resilience and using feedback to improve your work. Every time you do this you shine even brighter Camille, keep up your amazing efforts!
Year 5/6:
Grace S – For her continuous positive attitude towards learning and demonstrating role model behaviour.
Jack B – For your amazing maths work this week. You are well on your way to becoming an engineer!
Zach W – For the curiosity and enthusiasm you bring to our inquiry classes each day. Keep doing ex- Zach-tley what you are doing!
Kourosh N – For a wonderful start to our production practice. You have shown great enthusiasm and dedication to your part and have helped others with their practice along the way. Well done, Kourosh!
Olivia T – Olivia has had a really positive start to Term 2. It has been excellent to see her working as a successful communicator and collaborator in our current inquiry into what has helped shape Australia.
Russell's Joke of the week

Why did the DJ get disqualified from cross country?
He kept changing tracks.
Please see the below list of activities that you can enrol your child into for Term 2:
Drama lessons: Thursdays, Lunch Time
Music Lessons: Individual Bookings
Tennis Lessons:  Wednesdays & Thursdays, 8:10AM – 8:50AM
Dance Lessons: Wednesday's, Lunch Time
Chess Club: Fridays, 8:00AM – 8:50AM
If you are interested in any of the above activities for your child, please see the links below for further information.